The standard of high quality leggings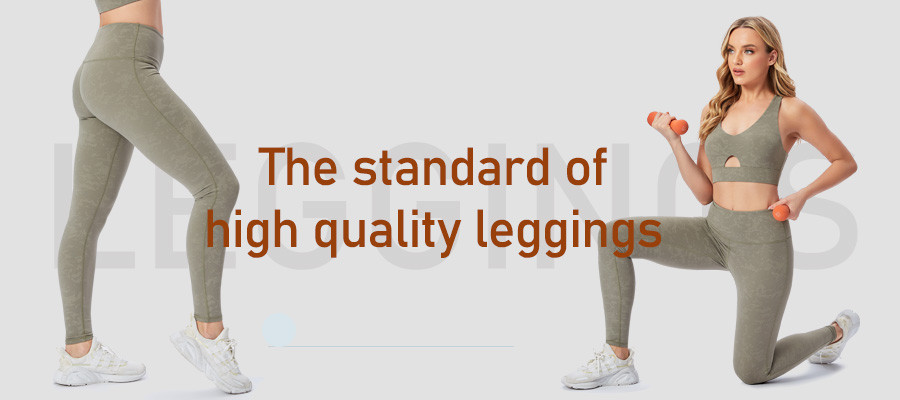 Now that legging has set off a wave around the world, legging is becoming hotter and hotter, and with it, the demand is growing. So what kind of legging will be more likeable and can be more hot? The answer is very simple, continue to look down, you will know the answer.When acquiring legging for your business, you need to pay attention to the following points.
Be aware of waistband
Waistband is very important for a legging, waistband has a huge impact on the comfort and safety of the legging. Low waist legging may move down during your workout. High waist legging will not slip easily, and wearing a high waist legging gives us a safer and more secure feeling.
Whether it is easy to put on and take off
You need to be aware of how easy it is to wear legging. You don't want your customers to hear the seams tearing while wearing them, every tear will cause damage to the pants and eventually your legging will be scrapped. So you need to be aware of the reliability of the stitching process of the legging.
Functionality
A quality legging should be quick-drying. If the legging is not quick-drying, then during the workout, after a lot of sweat, the light-colored legging will show more of your sweat and will not look good.
Fabric
Polyester is the most popular choice for leggings because of its water repellency and perspiration wicking properties.In addition you can test the quality of a legging by squatting deeply. When testing, you can pay attention to whether the fabric around the hips is transparent. If it is transparent, the fabric of the legging is not reliable. A very simple test to know the quality of the legging.
The length of legging
The length of the legging should not be too long or too short. Moderate length is the best, but of course the length still varies from person to person. You need to be aware of where it is on your body when you put on the legging.
Now do you know how the popular legging looks like? Are you looking for a manufacturer who makes legging?If you are looking for a manufacturer that makes high quality leggings.The fabrics we use are of the highest quality.We are a wholesaler of sportswear located in China and have more than 20 years of experience in producing sportswear with rich experience and technology. We support customized services.We have quality control for every production process.For more information,please contact us!
Contact information:
E-mail: admin@hcsportswear.com
+8613602338395