8 Non-Boring Style To Your Activewear for Spring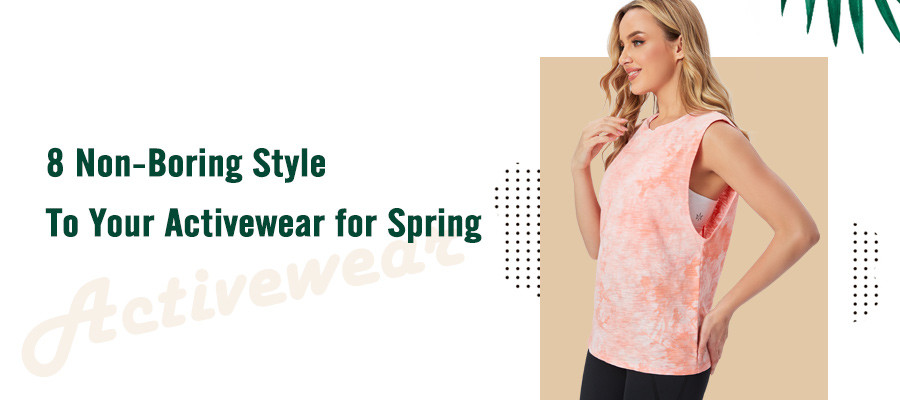 Whether you have an impressive collection of activewear or simply rely on spandex material, the good news is: your sports bras, shorts and sports tops aren't just for the gym. Your favorite sports pieces can be re-matched and you can wear them for any occasion. Read on for 8 stylish, non-boring ways to style spring sportswear:
1. Pair with chunky boots

Forget sneakers: your go-to yoga pants and sports bras pair perfectly with chunky boots. Chunky boots and a chic jacket will frame your figure perfectly and will make you look cool and sexy. As for outerwear, a blazer is the perfect way to balance edgy and sporty, but a button-up jacket, short-sleeve jacket, or any spring jacket will work too.
2. Pair with a pastel sweater

That's right, activewear is not just for sports, but also for street style. Wear a pastel sweater and accessories for a pretty sporty look for spring.

3. Pair with a trench coat

When it comes to fashion, trench coats are always attractive. Activewear is the perfect match for timeless, classic and trench coat construction. Not only will you stay warm in the changing weather, but you'll look effortlessly stylish while being comfortable.
4. Pair with a knotted t-shirts

Graphic t-shirts make every outfit cooler, and your tracksuits are no exception. Whether it's a pop of color, your favorite band tee, or a shirt that makes a statement, replace a boring tee or sports tank with an eye-catching alternative. To make it look more stylish, tie a knot in the front and DIY a top that is more tailored, fitted and stylish. It will make your outfit more special.
5. Pair with a blazer
Activewear and work blazers. Whether you're wearing leggings and a sports bra or gym shorts and a jumper, from brunch to running errands, an oversized blazer will complement your outfit perfectly for every occasion. Don't forget chunky sneakers and a baseball cap; a blazer makes anything stylish.
6. Pair with a knitted cardigan

The perfect spring coat isn't just for midi dresses or high-waisted jeans (though they can, too); a lightweight cardigan easily upgrades sportswear. Not only will you stay warm, but you'll be ready for everything your schedule has to offer while looking more stylish than a basic sweatshirt or jacket. Opt for neutrals or look for similar shades for a sleeker option.
7. Monochrome

One of fashion's best-kept secrets: Monochromatic makes anything more chic. A basic tracksuit that's been worn for a few months looks stylish with a matching coat and accessories. The key is tailored outerwear that contradicts looser sweats and classic accessories like structured totes, bold gold hoops and chic sunglasses that make you look sophisticated and stylish.
8. Pair with jeans

Jeans are always the best item. Your favorite jeans will turn your gym sneakers and pullovers into outfits for any occasion.
There are infinite possibilities for the matching of sportswear. If you want to know more or want to buy sportswear, please contact us.
HUCAI is a private label
custom sportswear and fitness wear
wholesale manufacturer
. We have a strong design team and sample development technology. We can provide ODM&ODM service. We can provide you with customized workout clothes according to your requirements. We will recommend new products to our customers on a monthly or cycle basis.