Global Women's sportswear Spring/Summer Market Trends 2023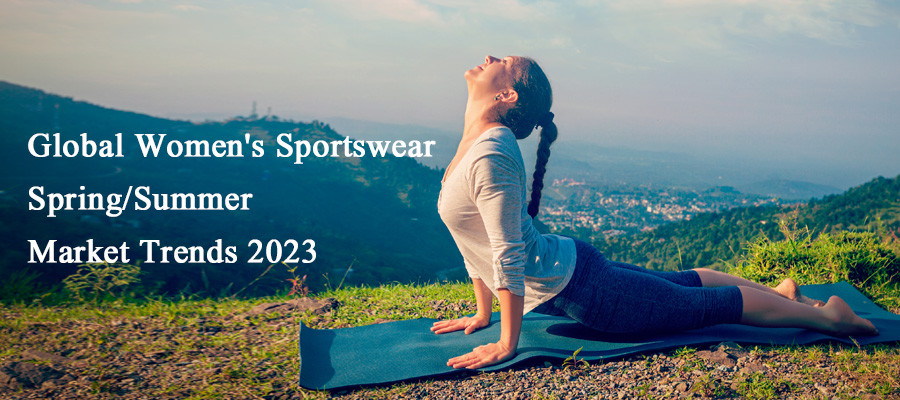 Global Women's sportswear Spring/Summer Market Trends 2023
The return of sports in recent years has given fashion a new twist. The diversification of lifestyle also continues to promote the development of sportswear, market segments are concerned.Sportswear's overall share of the womenswear market in the UK and US fell to 14% (down 4%) and 16 % (down 1%) respectively. In the UK, it has stabilised back to pre-pandemic levels; In the United States, the rate is up from 11% before the pandemic in 2019.In the United States, 22 percent of consumers intend to use or have used for fitness, suggesting that the pure sportswear market will be stronger.
Consumers are looking for comfort, and casual wear is still a top priority in their purchasing decisions.Consumer demand for sportswear declined year-over-year, with global buying intentions falling (minus 1% to 10%) and slightly down 1% to 19% in the United States.
Leisure outdoor aspect:
Jackets are one of the key items this season, with the fastest growing segments in the sportswear jacket category including the new season waistcoat/down vest (UK +43%, US +81%) and down/padded jacket (UK +41%, US +32%).
Necessary to suit:
Advanced basics such as bras and leggings are suitable for sports and everyday wear, and can be worn with fashion items for any occasion. Focus on the fabric, shape and classic functional details such as pockets and pressure support.
Now consumers pay more attention to sensory experience, the spring and autumn market in 2023 has some new concerns. With fashion style sports as the mainstream, spring and summer 2023 sports and leisure trend prediction: delicate, natural and pure beauty first.
1. Wide application of technical fabrics, emphasizing functionality
As the temperature fluctuation and rising energy costs, heat regulating clothing for consumers will become more important, especially in sports clothes are common, 57% of sportswear is described as with moisture absorption sweat properties (including coat accounting for 55% of the moisture absorption perspiration preference), 63% of the waterproof design in sportswear, has also been widely the preference of the sports fans.
2. The color tends to be bright, and the market is young and requires bright colors
Fantasy and reality strike a delicate balance this spring and summer as consumers occasionally need to escape reality. Focusing on health, wellness and optimism, color will become a key way to drive these emotions. Divided into two hues, one is bold and super-saturated, and the soft hues with inside-out texture, both see more expressive colors presented.
3. Fashion and sports styles require multi-pattern printing elements
The symbiotic relationship between fashion and sports style is getting closer and closer. Drawing on the popular aesthetic trend, printing has become the most indispensable fashion element in women's sportswear. Printing with different patterns makes each item stand out. The use of patterns and prints suitable for the brand concept, or the use of interesting slogans to assist the design, will make consumers more experience the brand concept.
If you are looking for a manufacturer of women's sportswear, I would like to introduce Hucai. Hucai is currently planning the spring and summer new models of women's sportswear in 2023. It has a very accurate grasp of the fashion direction of the market. We will combine the official data and statistics to embrace the fashion style in the clothing market with various styles and fierce competition, establish emotional empathy with customers, and provide customized services according to customers' design requirements.
Contact information:
E-mail: admin@hcsportswear.com
Instagram: https://www.instagram.com/hucaisportswear/
+8613602338395