Women's sportswear new launch - Spring/Summer 2024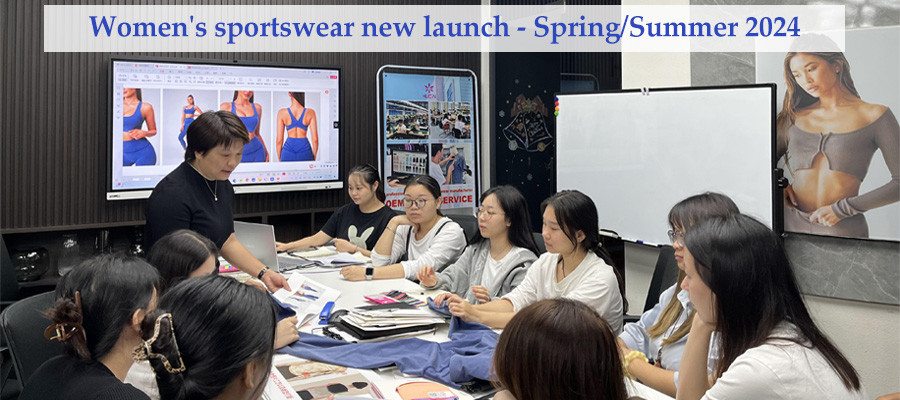 As a professional sportswear supplier, our company has been committed to providing customers with high quality and fashionable sportswear. In order to meet the demand of our regular customers for the new products of spring/summer 2024, we carried out a ladies' sportswear new product presentation. This presentation not only shows our product design concept and quality control process, but more importantly, it highlights our ability to expand for our regular customers and provide them with quality service.
一. Research and Design
Before launching the new spring/summer 2024 women's sportswear, we conducted extensive and in-depth market research. We sent a professional team to conduct a consumer survey to understand their preferences for sportswear styles, colors and materials. Through this research, we established several key elements: fashion, comfort and functionality. Based on these elements, our design team put a lot of effort into creating a series of unique and attractive new products. Whether it's the choice of fabric or the design of the cut, we strive to provide our customers with the best wearing experience.
二.Quality control and production
After the design is completed, we carry out a strict quality control process to ensure that the quality of each piece of sportswear meets the expectations of our customers. We use advanced technical equipment and standardized QC procedures to strictly control each step of the process, from the quality of the fabrics to the perfection of the details. We believe that high quality products are the basis for winning customers' trust.
三.the ability to expand and serve the old customers
In addition to launching new products, we also focus on expanding our old customer base. Through cooperation with our partners, we continue to develop new markets and attract more potential customers. We always think from our customers' perspective in order to provide the best solutions. We are convinced that only through continuous expansion and service can we build long-lasting and solid customer relationships.
四. Summary and Prospect
The success of the Spring/Summer 2024 Ladies' Sportswear New Product Presentation further demonstrated our company's outstanding capabilities in research, design, quality control and service. We will continue to dedicate ourselves to providing better products and services to our customers and keep innovating to meet their needs. Meanwhile, we are looking forward to establishing partnership with more customers for common development and win-win future.
FACEBOOK:Hucai Sportswear Manufacturer
Email: admin@hcsportswear.com