Where to buy the best quality custom yoga pants?
the waist to the feet. Because it is worn in the same way
as pantyhose,
it is also called inner socks and bottomless socks.
In the early 1980s, women were fashionable to wear leggings for
fitness and aerobics and people start to create professional leggings manufacturer
Starting in 2005, the fashion trend is wearing a mini skirt with black leggings. Some people also call "inner socks", the type belongs to pantyhose, which is a sock that cannot cover the soles of the feet.
When wearing, the socks are roughly between the knees and the
ankles. Like pantyhose, there are many materials, such as cotton,
1.What is the material for leggings?
Leggings sale in the market are most made of nylon/spandex or polyester/spandex fabric that retains its original elasticity and shape. However, nylon is relatively easy to break, and it is very common to scrape on sharp objects and break. Leggings made of cotton and cotton-wool blends are more warm-keeping.

This kind of leggings is made of our 45%nylon 43%polyester 12%spandex material which is soft feeling,mositure wicking
Stretchable and not easy to be break.It helps a lot when doing
2.How to choice a kind of yoga pants that is suitable for you shape?
Because yoga pants can bring out the curve of the human body, especially yoga pants can outline the curve of the lower body, so
that the waist and hips are more perfect, making the legs look slender; so they are popular with women, but if they are not properly worn,
they will be exposed. Your own shortcomings.
Yoga pants are the focus of this season's trend, changing the
previous supporting role, this season's tights can create a variety
of different styles of essential items. But keep in mind that the trend
is just the trend; it is not the trend of things that you look good when
you put it on. The overalls are more suitable for women with perfect body. For women who are not good, it is undoubtedly yours. The shortcomings are exposed to the sun.
Generally speaking, there are two types of leggings: one can be worn as a pair of pants, and the other can only be worn as a sock, also
For leggings that can be worn as trousers, because the entire buttocks can be exposed, it is important to pay attention to the choice of underwear. You can choose some flat-bottomed underwear or non-marking light-weight bottoms. Don't let the hips have obvious Lines appear. Otherwise it will make your elegant style fail.
For leggings in pantyhose, don't expose your hips, but use your top to cover your hips. Otherwise, high-elastic pantyhose will expose your body, which is very unsightly. Women with thicker legs should not choose color-printed tights because the color prints visually make the legs feel thicker. However, everything has two sides. For women with thin legs, color printed leggings are a good choice.
Do not try to wear leggings with high transparency, because this
is the clothing style of bad women, to avoid others saying you are exposed.
To choose leggings based on your size
A slim, well-proportioned woman can wear anything.
Full-bodied women recommend wearing dark, tight-fitting leggings.
Women with small belly protrusions are advised to choose high-waisted leggings and thicker legs with elastic legs.
Below we show you our factory's size guide for yoga pants and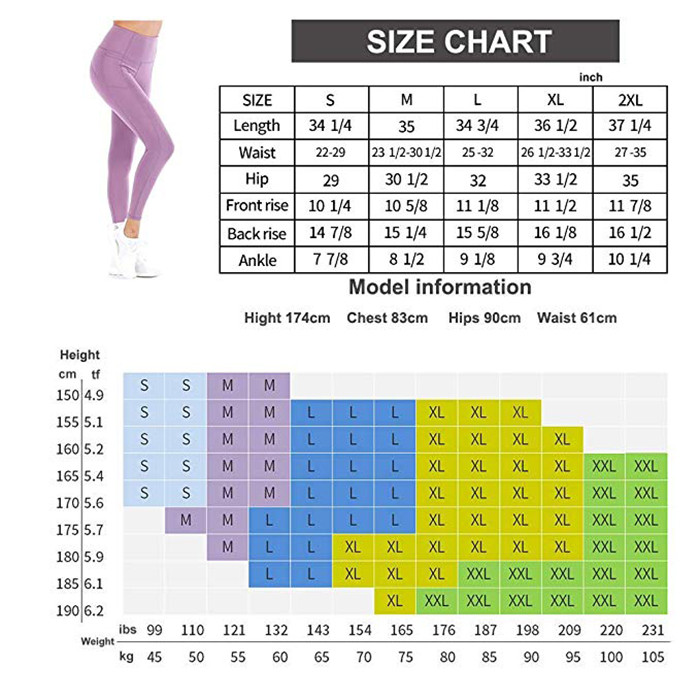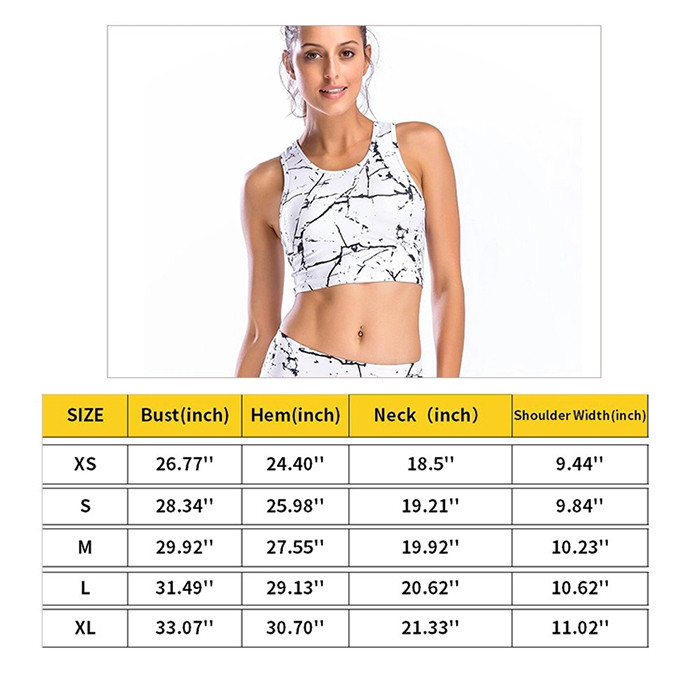 We can also custom the size as your per specifications.If you are interested to work with Hucai Sportswear.Please feel free to contact!