Do HUCAI's sportswear fabrics have OEKO-TEX® Standard 100 certificates?
Do HUCAI's sportswear fabrics have OEKO-TEX® Standard 100 certificates?
HUCAI has always been very concerned about the quality of its sportswear products as well as the health and safety of its consumers. And put it in the first place in the production of products. Recently, we noticed that sportswear brand Lululemon fabrics contain high concentrations of harmful chemicals, including highly carcinogenic formaldehyde and ethylene oxide, and sportswear made from these harmful substances may pose a potential threat to human health. This is of great concern to us. Therefore, we assure you that our activewear does not contain any harmful substances and that we have obtained the relevant certifications and standards to ensure that our activeyoga wear fully meets the highest safety standards.
First of all, we have strict management and supervision of the supply chain.
From the procurement of raw materials, testing, processing to the control of the production process, we have taken the most stringent measures. We choose only the best and most reliable raw materials to ensure the safety and quality of our products. Our production facilities are also regularly maintained and cleaned to ensure environmental safety during the production of our products.
Secondly, our products fully meet the highest standards and certification requirements.
We have obtained relevant certifications, such as OEKO-TEX® Standard 100 and OEKO, which certify that our products contain no hazardous substances, absolutely no PFAS, BPA or lead in the ingredients, and that the product quality is guaranteed.
Finally, we provide consumers with a global after-sales service to ensure that their purchase experience is pleasant and reassuring. Our sportswear design, material use and quality assurance measures meet the highest standards, so you can buy without worry.
Here are our certifications: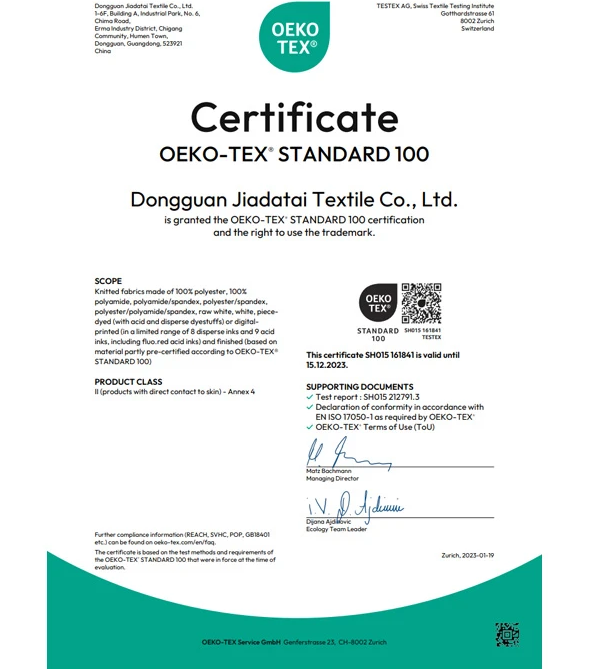 Hucai is a supplier specializing in the design, customization and production of women's sportswear. Our design team is very creative and inspired, and keep up with the latest market trends, we can provide you with the latest design and category solutions to meet your needs. We welcome all brands, Internet celebrities, fitness bloggers to consult, we believe that our design ability and the latest market trend to master the ability, can provide better promotion for your brand value. If you have any related needs, please feel free to contact us, we look forward to working with you!

Contact information:

E-mail: sales01@hcsportswear.com
+86 13602338395